Sometimes one just backs into learning due to a life encounter. Such is my case when two monarch caterpillars showed up on a piece of swamp milkweed sitting in a vase in my kitchen. I have written a couple of posts about my visitors. One became a chrysalis this past Wednesday.
I have learned much this summer after filling my gardens with native plants, including milkweed. Randi Eckel of Toadshade Wildlife Farm in Frenchtown, New Jersey provided great guidance. If there were monarchs laying eggs, I never saw them. But they're offspring are here, continuing to teach me.
While fretting for a bit about helping these creatures survive, I eventually became content with letting mother nature take over the care, until this morning when I read this story posted on northjersey.com. (Thank you Matt Friedman!)
Meet Montclair's Trina Paulus. For the last 30 years she has been teaching the world about the importance of monarchs. In 1972, she wrote a book titled: Hope for the Flowers. This past Sunday, the 89-years young Paulus, aka Montclair's Butterfly Lady, was at Crane Park where she led a monarch butterfly release. And as an aside, there is a very cool environmental project at that park.
What seemed like a mere monarch celebration story on the surface, became yet another amazing adventure in learning as I clicked on links in the text, landing on MonarchWatch.org
Like many nature stories of late, the monarchs are struggling because of over-development and the loss of habitat. Monarchs ONLY eat milkweed.
The monarch population has dropped by about 97% in the past 50 years due to habitat destruction, extreme weather and pesticide use, particularly on genetically modified crops in the Midwest.

 Only about 2% of the eggs survive in the wild

https://www.northjersey.com/story/news/essex/montclair/2020/08/13/trina-paulus-monarch-butterfly-lady-montclair-nj-hope-flowers/3335454001/
For years, Ms. Paulus has been collecting monarch eggs and rearing them for release. According to the story, for this past Sunday's release, Paulus brought fewer butterflies than the thousand she brought last year. She raised One. Thousand. Butterflies. Process that for a minute.
This is what she collects to nurture. These are monarch butterfly eggs.
While that information was interesting (I have to go read about the art of collecting monarch eggs); what followed was even more eye-opening.
For about a year, I worked at the Featherbed Lane Banding station in Hopewell, New Jersey. I recorded information, but my youngest daughter was learning how to release birds from mist nets in order to weigh them, measure them, and put bands on legs. This process helps scientists keep track of bird populations. Every band gets it's own number which gets recorded in a data base. You can see pictures of the process here.
Banding birds looks challenging; but knowing how to hold wild birds properly, and working in an efficient manner, means the bird isn't held long and doesn't get injured.
Quite often banded birds return to the same banding table. The birds get re-identified via the band number, and thus the history of the bird can be determined. If someone finds a deceased bird with a band, that also gets recorded and gives scientists information.
But imagine my surprise to learn there are people who tag monarch butterflies! Not like Tag; You're it. But they actually hold the butterfly and attach a tag to it! And like bird bands, the tags are individually numbered and the numbers recorded. Those tags help scientists keep track of monarchs.
But really, you have to put a tag on a butterfly!!!!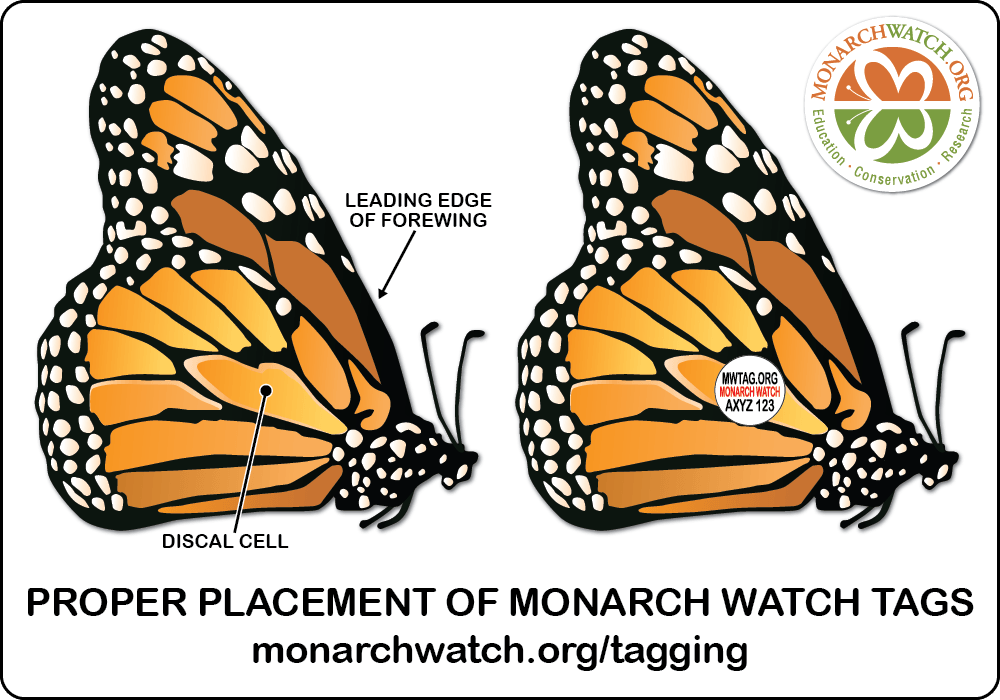 See it in action!
Teachers and parents, the monarch migration is looming. What a fun lesson for remote learning! Click here to find classroom resources. Citizen Scientists can click here to register and see the migration calendar. You can even find milkweed through MonarchWatch.
I don't know if I am ready to collect eggs and tag butterflies. But, I will register my little habitat of milkweed. Can't wait to see if my visitors make it to the next stage of life!