Ask anyone who knows me well, I am not rabidly invested in sports, despite having attended both the University of North Carolina-Chapel Hill and the University of Maryland-College Park. Don't get me wrong, I will root for Carolina basketball, especially when the foes are Dook, UVa, Syracuse and NC State; but that's because I have friends who root for those opposing teams. This preamble is to explain why, when I saw a Tweet this morning by Aaron Maybin, the name sounded familiar; but , I wasn't sure why. Turns out he played for Penn State in college, and professionally for the Bills, the Jets and the Bengals. But this morning he hit my radar screen for a completely different reason.
As the new school year begins to unfold around the country, Maybin Tweeted out a mournful note about his future in public education.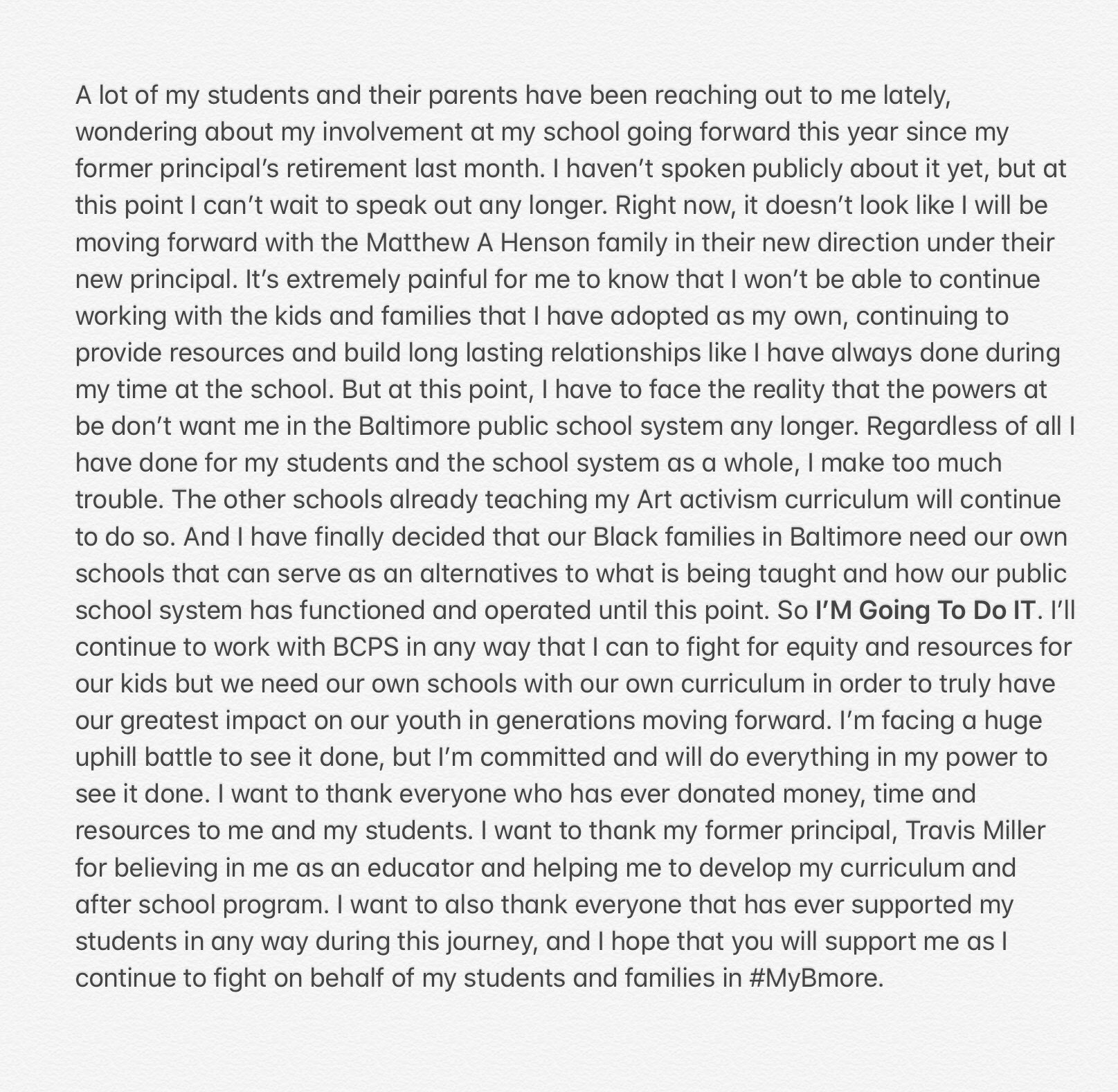 On one level, his note sent me right back to my days reporting on education in the Raleigh-Durham-Chapel Hill area of North Carolina. I don't remember the nature of the story I was working on, but I have always carried with me the words of several moms whose children attended Durham public schools; schools which sat in the enormous shadow cast by Duke University. We were discussing school integration and how it may, or may not, have changed the lives of students. To my surprise, the moms told me their children were worse off under school integration.
The conversation went something like this. The moms agreed segregated schools for black children in North Carolina were run down, had fewer resources; the books were eons old. But the one thing those schools did have, they told me, was great teachers who cared about their black children. Those teachers also had expectations for their students. These moms felt that under integration, white teachers had lower expectations because they believed black children had lower IQs, and could not compete academically. One mom described the attitude of teachers as: Those poor black children . . . And this was 1979.
So while this part of Maybin's Tweet saddened me, I totally understood the why.
I have two connections to Baltimore–one positive, one not so much. My grandfather's cousins laid many of the sidewalks in Baltimore and put the asphalt on the roads. Their company started in the 1920s. As a child, my family visited these cousins who had a magnificent house; they let us stay at the farm outside of Baltimore which had a swimming pool. They were quite generous. But what I still remember all these years later is their racism and hatred. They took us on a tour of Baltimore which was their equivalent of going to the zoo. The memory still causes me discomfort. But that's how I know the problems in Baltimore are not new, but firmly, deeply entrenched.
As an adult, I worked for a short time in the Communications Department at the Johns Hopkins Medical Institutions. I took the train each day from Washington, DC. I might have stayed except the women in charge, while wanting better news coverage for Hopkins, thwarted my every suggestion. For example, a female physician who was making videos for the department would always wear a blouse with a plunging neckline at the request of the film crew. I pushed to have her wear the signature blue physician's coat of the time so she looked professional. I lost to the men. But I loved Baltimore. I loved Fell's Point. The Inner Harbor. St. Paul Street. And, the painted screens. (I know, I should add Camden Yards and the Orioles. But see that opening paragraph!)
Honestly, I never thought so many years out from earning my degree in education, I would write: Yes, Aaron Maybin, maybe we need community schools dedicated to teaching black children because the traditional public school system has failed them royally. It pains me to consider segregating children again. I'd rather see a United Nations-like school; a school setting with powerful teachers helping all children find their passions while teaching them the skills they need to become life-long learners. I have seen such examples, but they are led by innovative, carrying people, not the entrenched.
I also know the frustration of being the outsider in public education while trying to make change. At least you did get a foot in the door. I never made it that far. I was told I liked kids to much to be a teacher; one principal wouldn't even let me interview for a job. He told me I was too creative and would make seasoned teachers see red. So, I too gave up on public education in a way, opting to teach in other venues. When my own daughter came to me and said she wanted to homeschool because of the torment she received in second grade, I let her bail on public education too. But I have always kept leaning on the system, pushing for improvement; hoping for change, but secretly realizing public education, as it currently exists, has outlived its usefulness for too many children.
This pandemic promises change in so many ways. My hope is the biggest changes come in the area of teaching and learning.
I will be watching your progress, Mr. Maybin. Thank you for your art, your voice, and your dedication to the children of West Baltimore.