To know me is to know I love birds. They fascinate me on many levels. I live with three parrots. My bird adoration stems from eight years of homeschooling my youngest daughter. Her passion for all things avian took us on many adventures. She even piloted the Trainer-For-A-Day program for the National Aviary. Here she is, sixteen years ago, at the age of ten, cleaning the penguin enclosure.
She often carries one of our parrots in her sweatshirt and takes it for a walk.
Her love of birds has been infectious, in a good way. We constantly share stories of birds in our family. And the latest story we have shared is about an owl: specifically, a Northern Saw Whet owl dubbed Rocky.
In case you have been overwhelmed by life in during the last twelve days (understandable!) here is Rocky's story.
Each year, a tree is selected to glitter and glow in Rockefeller Center. The center actually has a garden crew headed up by Erik Pauze. Mr. Pauze and his team of garden elves keep an eye out for 70- to 100-foot tall Norway Spruces to be installed each November above the center's skating rink. Cool job, no? Below is a picture of Mr. Pauze.
The first Rockefeller Center tree was installed in 1931 by construction workers hired to erect the newly designed center. The Depression era had started two years earlier, but that didn't prevent workers and their families from hoisting a 20-foot tree and decorating it with strings of cranberries, paper chains and even tin cans. There was no way to bring electricity to the tree, so there the tree had no lights. The first illuminated tree shown brightly in 1933.
This is what it looked like.
This year's tree came from Oneonta, New York; a man who goes by the name Daddy Al donated the tree. A member of Mr. Pauze's staff saw Daddy Al's tree three years ago and asked him if he would let it go to Rockefeller Center when it was tall enough. And this year, the tree was 75 feet tall and ready for its journey.
The process of taking down a tree, wrapping it and loading it on a flatbed for at trip to New York City is an all-day affair. Workers carefully inspect the tree for potential hitchhikers. They might trim some branches before taking the tree down completely. One has to believe this is a true labor of love because of what the Rockefeller Center Christmas tree means to New Yorkers, Americans and the rest of the world.
On November 12th, Mr. Pauze and his crew traveled to Oneonta to secure this year's tree. Four days later, as they hoisted the tree into place, and moved the branches around to help them settle, one worker found a stow-away.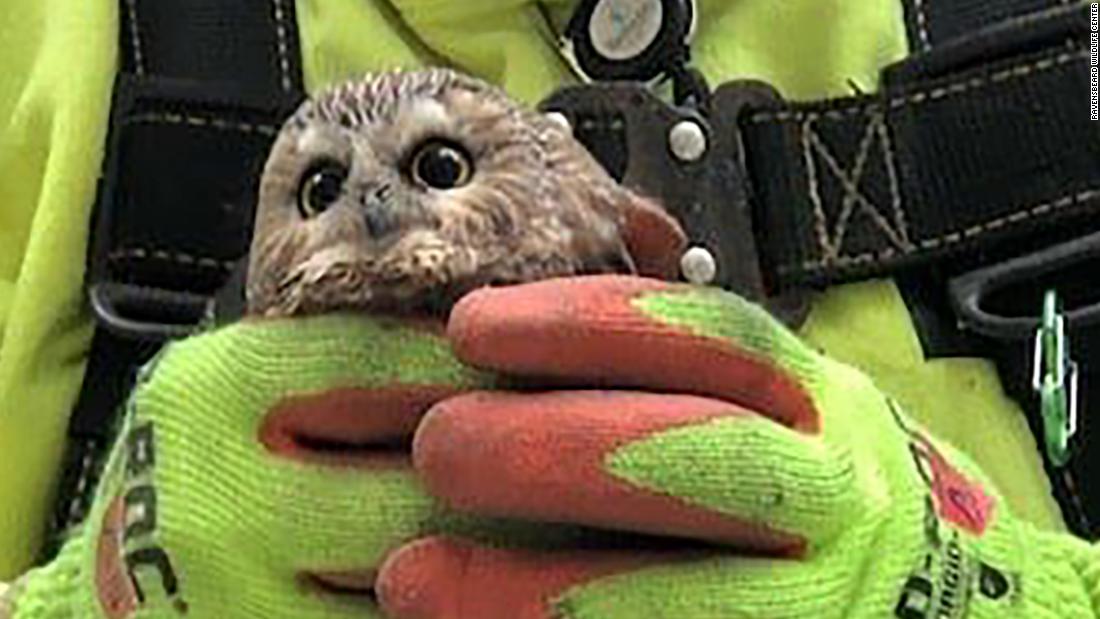 No one knows how this adult Northern Saw Whet owl landed in Daddy Al's donated tree. She could have been hiding in a cavity in the tree and overlooked. She could have flown in after the tree arrived. However she got snagged in the tree and stuck to the trunk, it had been four days without food and water. One of the workers popped the owl in a box and asked his wife to find a wildlife rehabilitation specialist.
Enter Ellen Kalish of Ravensbeard Wildlife Center.
Rehabbing birds is an amazing experience. Yes, it was yet another adventure for me courtesy of my bird-loving daughter. I got to clean the legs off of crickets so she could feed them head-first to baby jays using tweezers.
Ms. Kalish took the owl, checked it over, and popped it in a pet carrier for the night, leaving it water and two mice. Ms. Kalish reported the next morning that both were gone. When a bird comes to a rehab center and eats, that's a joyous moment: it usually indicates the bird is okay.
The Northern Saw Whet Owl summers in northern climates and winters further south, but still in the United States and parts of Mexico. Saw whets average about 7 inches in height (about the length of an unsharpened #2 pencil). It weighs anywhere from 2.3-5.3 ounces (a tennis ball weighs about 2.1 ounces). The owl's wingspan can range anywhere from 16-to-18 inches long (put three dollar bills end-to-end and you have 18 inches).
And know this, the feet of raptors do the damage, not the beaks. This is why you'll see people holding on to raptors while wearing gloves.
By the way, parrots are just the opposite. The beak of a parrot can do some heavy-duty damage. So no, don't put your finger into the cage of a parrot.
Ms. Kalish named the owl Rockefeller, dubbing it Rocky for short. X-rays showed no broken bones. Another great sign. Rocky was DNA tested and found to be female.
Eight days after Rocky arrived at Ravensbeard, she was healthy and ready to be released.
Releasing a rehabilitated bird back into the wild is another awesome experience I have had thanks to my daughter. Not all birds are as lucky as Rocky. We painfully watched a nuthatch die of a head injury, likely from striking a window. When we went to help feed baby birds who had lost parents, we were often greeted by Ataxia, a starling who lived with our mentoring rehabber. Taxia, as we called her, was poisoned by something sprayed in a yard. She could sing, but no longer balance enough to fly. The pesticides had damaged her nervous system.
There are birds who live out their lives in wildlife centers, lovingly cared for my people like Ellen Kalish. The stories of their injuries–often at the hands of humans, can make you cry. The most amazing story is retold in a book titled: Beauty and the Beak. Beauty, an American Bald Eagle, lost most of her beak after being shot in the face. Thanks to 3-D technology, a bio-engineer and a dentist, she has a beak again.
Birds are resilient. Look at where they live: in the wild. They have much to teach us.
Begin with the lesson from Rocky. Let her story be your hope as we finish out what has been one of the most difficult years in the lives of many people. Know we will bounce back from this year of despair.
Let Rocky be your guiding light and help pass that light on.
Those of you with Facebook pages can watch Rocky take flight using this link: https://www.facebook.com/RavensbeardWildlifeCenter/videos/1004866233332928